Dublin Airport Central Lands Kellogg For Its New Build Development
August 29, 2018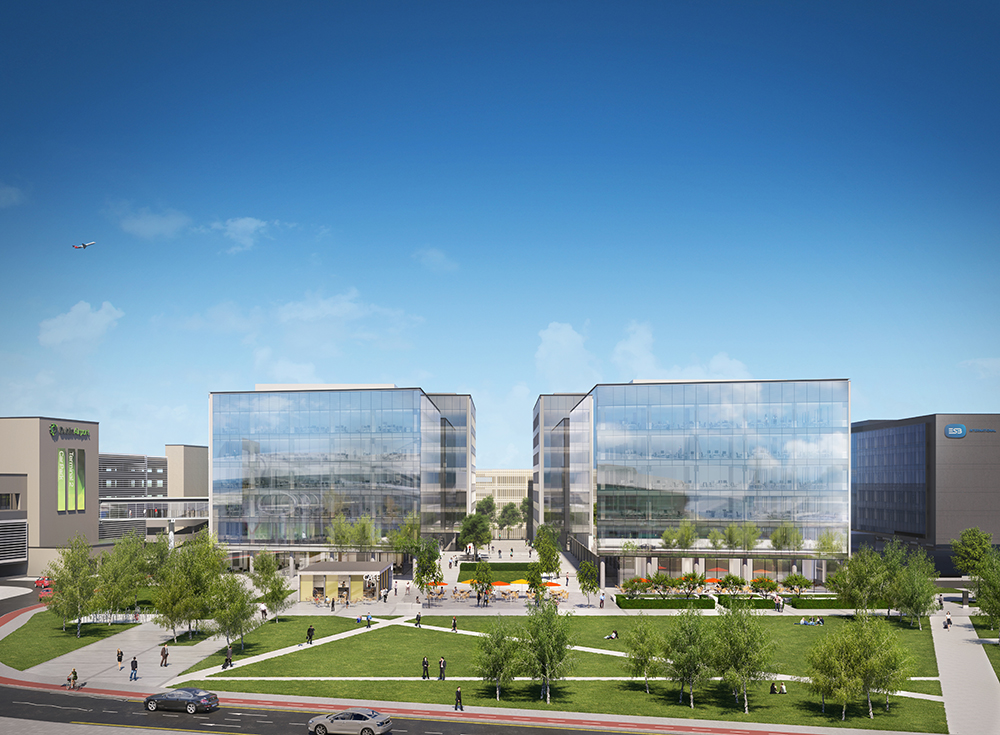 Dublin Airport Central, the major new development at the heart of the Dublin Airport campus, has landed its first tenant for its two new Grade A headquarters style office blocks currently under construction.
US food giant Kellogg has agreed to become the anchor tenant at THREE Dublin Airport Central, which is a six-floor block located close to Terminal 2. Kellogg will take 3,600 sq.m. in the 8,500 sq.m. building and will move its Dublin-based European and Irish offices, which employ over 220 people, to Dublin Airport Central.
daa currently has planning permission for 41,700 sq.m. (448,854 sq.ft) of offices and associated facilities within the Dublin Airport Central development. The permission covers four blocks of Grade A, corporate HQ offices.
Construction is well underway on the first two buildings – TWO Dublin Airport Central and THREE Dublin Airport Central – which will deliver about 20,000 sq.m. of offices. A high quality landscaped 1.25-acre urban realm and city gardens are also currently under construction. This is the first phase of the Dublin Airport Central development, which could ultimately encompass up to 70 acres when fully complete.
daa Chief Executive Dalton Philips said he was delighted that Dublin Airport Central had secured Kellogg as its first tenant for the new build elements of the development. "We can't wait to welcome Kellogg and its employees to their new home at Dublin Airport Central, and we're sure that it will be the first of many firms that will be attracted to Dublin Airport by the development," Mr Philips added. "Ireland is well recognised as a world-class location for business and Dublin Airport Central can accommodate the requirements of major multi-nationals such as Kellogg and also Irish firms seeking a modern, flexible location with unmatched connectivity."
President, Kellogg Europe, Dave Lawlor, said Dublin Airport Central was the perfect new location for the business. "We looked at several other potential office locations both in Dublin city centre and suburban locations and Dublin Airport Central best suited our needs and the needs of our employees," according to Mr Lawlor. "Dublin Airport Central offers a world-class office environment in a dynamic, incredibly well-connected location that allows us to stay within the Fingal region, where we have been based for more than a decade. This new office environment will create a new, vibrant atmosphere for our teams in Dublin, enabling us to work in a more creative and connected way to execute our growth strategy across Europe. We're hugely excited to be the first tenant for THREE Dublin Airport Central, and are planning to move to our new home in the third quarter of 2019."
Kellogg is currently based at Airside Business Park in Swords, Co Dublin, which is about three kilometres from Dublin Airport. Kellogg located its European office in Dublin in 2005 and also houses its Irish operation at the same facility.
With construction of the two new buildings well underway, there has been "very strong interest in Dublin Airport Central from a range of potential tenants," according to Brian Coppinger, who is Head of Dublin Airport Central. "We are very pleased with the demand we are seeing for these two landmark buildings and we expect to have further news shortly in relation to additional lettings. The market has given strong validation for the Dublin Airport Central concept."
Mr Coppinger said Dublin Airport Central was appealing to internationally focused firms due to its unrivalled location at the heart of Dublin Airport; the high quality of the buildings; the amenities available onsite; and the flexibility to allow for future growth. "As demand for talented staff grows it is vital that the right workplace environment is created and Dublin Airport Central can deliver that for the most demanding employers and employees."
The two buildings currently under construction are the first new build elements of the Dublin Airport Central project, as ONE Dublin Airport Central, which is fully let to ESB International, had been a 1960s office building before it was completely upgraded by daa in 2016. The award-winning building, which has the highest available Leadership in Energy and Environmental Design (LEED) sustainability accreditation, is now home to about 500 ESB International staff.
THREE Dublin Airport Central is due to be ready for client fit-out by the end of the second quarter of next year, and Kellogg is planning to move in the third quarter of 2019. Kellogg is taking two and a half floors of the six-storey office block, which will be built to Grade A standard and will meet a minimum sustainable accreditation as awarded by the US Green Building Council of LEED Gold.
The Dublin Airport campus is home to more than 200 businesses which together employ more than 19,000 employees. It has over 30 restaurants and cafés, an extensive choice of retail outlets and facilities including a gym and a swimming pool.
Last year Dublin Airport, welcomed almost 30 million passengers and passenger numbers are up 6% so far this year. It has flights to 195 destinations in 42 countries, operated by 56 airlines.
The Joint Agents for Dublin Airport Central are BNP Paribas Real Estate (tel 353 1 661 1233) or Bannon (tel 353 1 647 7900).
Ends
Further information:
Paul O'Kane, 353 1 814 1897, 353 86 609 0221