Dublin and Cork Airports To Launch Generous Airport Charges Discount Schemes To Kickstart Air Travel For Next Summer
December 17, 2020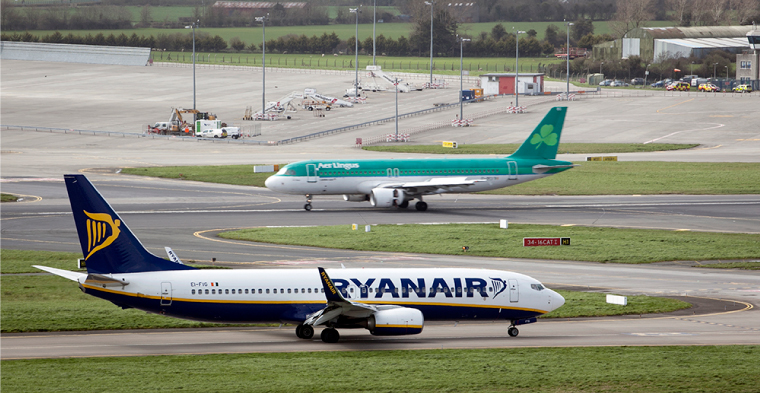 Dublin Airport offering free charges if certain passenger targets met
daa is proposing major new airport charges discount schemes at Dublin and Cork airports to help kickstart air travel to and from Ireland from next summer.
The schemes, which will provide generous discounts to airlines, will encourage airlines to resume services that have been curtailed or dropped entirely due to COVID-19.
Dublin Airport's proposal has been communicated to airlines today. Separately, Cork Airport is also proposing a very competitive discount scheme to drive a recovery in traffic, and this will be communicated to airlines shortly. The Dublin Airport scheme features free airport charges for airlines if certain passenger targets are met.
"Irish aviation has been decimated by the impact of COVID-19, and it is essential for the Irish economy that we rebuild lost connectivity as quickly as possible," said daa Chief Executive Dalton Philips.
"daa is stepping up and taking the lead to help rebuild this vital sector and we'll work closely with our airline customers and other stakeholders to stimulate growth. Ireland is one of the most open economies in the world and has a huge dependency on trade, tourism, exports and foreign direct investment. The vast majority of Ireland's economic activity needs air connectivity, and these discount schemes will help restore vital air routes."
Passenger numbers at Dublin Airport are down by 77% compared to last year, while traffic at Cork is down 79%. So far this year, Dublin Airport has lost 24.4 million passengers due to the impact of COVID-19 while Cork Airport has lost almost 2 million passengers.
The schemes are designed to allow airlines a higher level of confidence to commit capacity to Ireland, as market conditions improve, vaccines are rolled out and Government guidelines are further relaxed during 2021.
Dublin Airport already has the lowest charges of its peers in Europe, and this proposed new incentive scheme will make Europe's best value large airport an even more attractive location for airlines next year. Charges at Cork Airport have not increased in 14 years and are very competitive compared its peer airports.
"Airports and airlines throughout the world have taken a huge financial hit this year, as route networks that had taken years to create were wiped out in a couple of months," according to Mr Philips. "Independent data shows that flights to and from Ireland have been more badly hit than almost any other market in Europe."
Dublin Airport's proposed discount scheme is aimed at stimulating growth between March 28, 2021, which is the official start of aviation's summer season, and March 26, 2022. The discounts will be triggered by the performance of each individual airline and are not dependent on overall traffic growth at Dublin Airport during the 12-month period.
In any three-month period during the scheme if an airline carries more than 50% of the number of passengers it had at Dublin Airport during the same quarter in 2019/2020, then the airport charges for those extra passengers will be reduced by half. If an airline has more than 70% of the passengers it had at Dublin the previous year, then all passengers above that level are free for the airline in question.
If Dublin Airport's airline customers from 2019 carried 80% of their passenger total from last year in 2021/22, Dublin Airport will be rebating €50 million worth of airport charges.
"We recognise that airlines are making decisions now about where to place their aircraft for next summer, and that many of our customers have smaller fleets than they had last year," Mr Philips said.
"Dublin Airport was already a hugely attractive location from a cost perspective – as its charges were reduced by 40% between 2016 and 2020. However, despite being the lowest cost airport in our peer group, we recognise that there are hugely challenging market conditions for our customers, and we want to help them return to growth. This proposed discount scheme shares the risk between Dublin Airport and its airline customers by encouraging growth and offering heavily discounted or free charges when specific passenger targets are met."
Dublin Airport, which is Ireland's key international gateway, was the eighth largest airport in the European Union in 2019. It welcomed a record 32.9 million passengers in 2019, with flights to almost 200 destinations in 43 countries operated by more than 50 airlines. Dublin Airport supports and facilitates almost 130,000 jobs in the Republic of Ireland and generates €9.8 billion in Gross Value Added (GVA) for the Irish economy.
Further information:
Paul O'Kane, Tel 353 86 6090221
Siobhán O'Donnell, Tel 353 087 2710065