Planning Granted For First Phase of Dublin Airport Central
March 15, 2017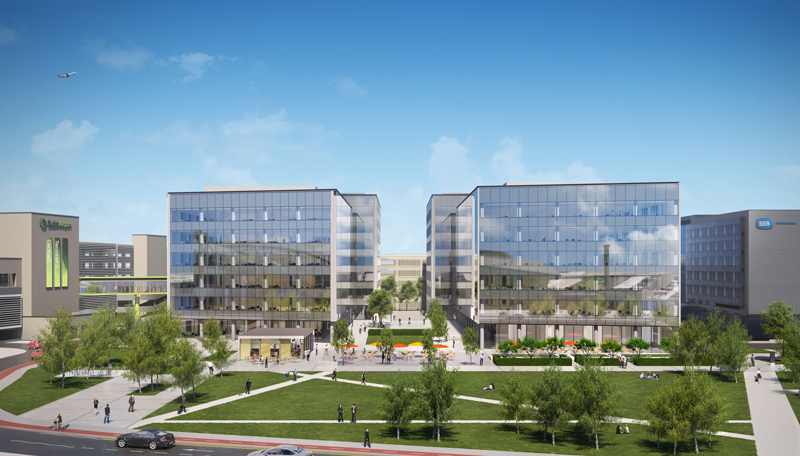 daa has secured planning permission for a major new development at Dublin Airport comprising 41,700 sq.m. (448,854 sq.ft) of offices and a new public space connected to Terminal 2.
The development will be the first new build element of the Dublin Airport Central development, which could encompass up to 70 acres when fully complete.
An Bord Pleanála has granted permission for the construction of four individual Grade A, six and seven storey head office style buildings ranging in size from 8,200 sq.m to 11,450 sq.m.
The development, which is conveniently located at the heart of the existing Dublin Airport campus, will also include a high quality landscaped urban realm and city gardens area, that will create a unique sense of place. More than 4,000 employees will be located at Dublin Airport Central when the first phase of the scheme is complete.
The first two buildings are currently out to tender. Construction will begin later this year and is due to be completed by the summer of 2018. Up to 400 construction jobs will be created during the build phase.
daa, which is the operator of Dublin and Cork airports, is funding the initial phase of the development, while the longer-term funding strategy for the project has yet to be finalised.
"Dublin Airport Central is one of the most anticipated new developments in the capital," said daa Chief Development Officer John Heffernan. "It will offer national and multinational companies an office environment of the highest quality, with unrivalled connectivity within and outside Ireland, and also, uniquely, the space for a business to significantly grow its operation in the same location."
Dublin Airport Central will be particularly attractive to firms that have a mobile workforce that travels regularly due to its location in the centre of the airport campus just a short walk from the terminals. It is also likely to be of interest to British firms that are considering relocating part of their business to Ireland due to the impact of Brexit on their operations.
daa recently welcomed ESB International from St. Stephen's Green to One Dublin Airport Central, which was the former Aer Lingus Head Office Building. It has now been fully refurbished to the most modern standards and ESB International is occupying the entire building and will have up to 600 staff based there.
The Dublin Airport campus includes over 30 restaurants and eateries, an extensive choice of retail outlets and facilities including a gym and swimming pool. About 16,000 people currently work on the campus.
daa is also separately planning a new terminal-linked four star hotel close to the Dublin Airport Central site. The new hotel, which is due to open in 2019, will have a total floor area of 22,840 sq m comprising 402 bedrooms, as well as extensive bar, restaurant, café and conference facilities and a fitness suite. Planning for the hotel has already been granted and daa is intending to use a Finance, Build Operate and Transfer (FBOT) model for the hotel development.
Dublin Airport, which welcomed a record 28 million passengers last year, has direct flights to 185 destinations in 41 countries operated by a total of 47 airlines. It is now Europe's fifth largest airport for North American connectivity after Heathrow, Paris, Frankfurt and Amsterdam.
During the peak summer season last year Dublin Airport had 48 flights per day to and from 12 cities in the United States and five Canadian destinations.
Further information:
Paul O'Kane +353 86 609 0221, 353 1 814 1897