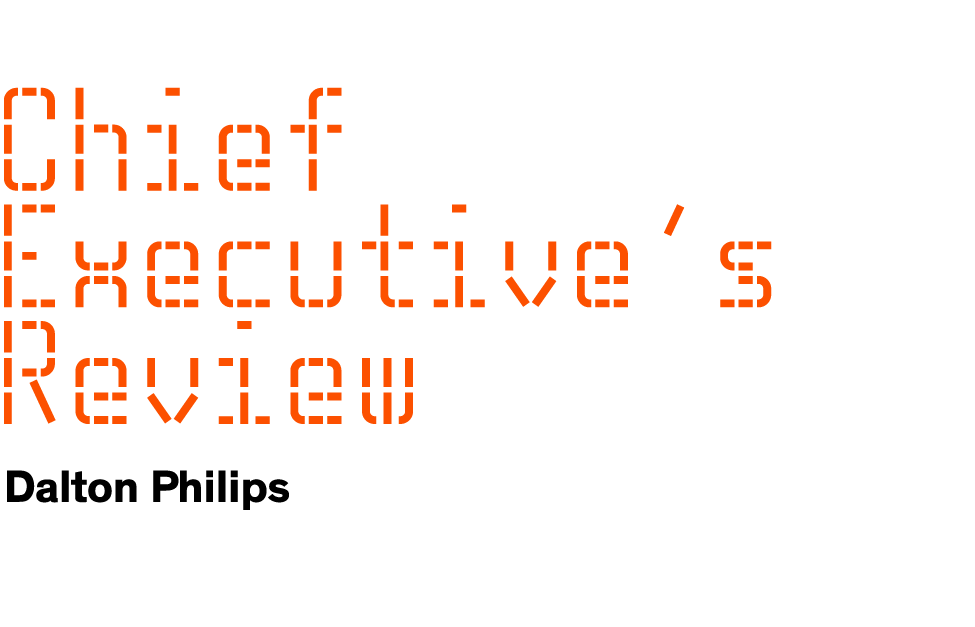 daa had a positive year during 2017 both at home and abroad. Passenger numbers increased at our Irish airports, sales were up at our international retail business, we had a successful first full year of trading at our airport management operation in Saudi Arabia, and our financial performance further improved. Substantial progress was made at our new office development, Dublin Airport Central. Cork Airport celebrated a major milestone when it welcomed scheduled transatlantic flights for the first time. Total passenger numbers increased by 6% to a record 31.9 million, as Dublin Airport enjoyed its seventh consecutive year of traffic growth and Cork Airport saw increased passenger numbers for the second year in a row. Group turnover was up 8% to €855 million, with commercial turnover growing faster than income from aeronautical charges. Aeronautical income increased by 6% to €307 million, while commercial revenue was up 10% to €301 million. Turnover at our international businesses increased by 7% to €247 million. Airport charges and commercial turnover made up about 70% of total turnover divided equally between these two elements with international activities providing the remaining 30%. Earnings before interest, taxation, depreciation and amortisation (EBITDA) increased by 9.5% to €271 million. Despite increased profits, cost control is a key focus for the Group and it is essential that we remain vigilant in this area. Excluding exceptional items, Group profit after tax increased by 16% to €125 million. The impact of unrealised investment property fair value gains of just over €5 million increased post exceptional profit after tax to €130 million. We continued to reduce our debt levels during the year, with net debt 5% lower at €541 million at December 31. In May, Standard & Poor's revised its outlook on daa to Positive from Stable and at the same time affirmed its a-/a-2 long and short-term corporate credit ratings on daa. As we move into another major phase of capital investment with North Runway and other capacity enhancements at Dublin Airport, our objective is to maintain a strong investment grade credit rating. The Board has recommended a dividend of €37.4 million in respect of 2017. A dividend of €29.1 million in respect of 2016 was paid during 2017.  

During the year the Group devised a new corporate strategy that will guide the business until 2021. Due to strong passenger growth and an improved financial performance, many of the targets set in the Group's previous strategy, which covered the period from 20142017, were comfortably exceeded. Overall passenger numbers were 14% ahead of the strategy target, aggregate profits after tax were 56% better than the strategy target, and the return on capital employed was 48% ahead of target. This strong performance was underpinned by 51% growth in total Dublin and Cork airport passenger numbers during the period. Our customer service target of always being within the top five within our respective peer group was also achieved. We also continued to make progress in our international activities. The Group's new Corporate Strategy 2018 2021 Creating Our Future reflects the improved position and sets out a roadmap for our future development. daa's core vision is: "To be airport industry leaders, growing our business with talented people delivering great service and value for airlines, passengers and business partners". This new strategy has ambitious annual goals and a focus on areas such as: delivering increased connectivity at Dublin Airport and building on the return to growth at Cork ensuring operational excellence in safety and security at both airports progressing complex infrastructure projects in Dublin, including North Runway heightening our focus on environmental sustainability developing great people and teams that are ready for tomorrow increasing profits from ARI, daa International and Dublin Airport Central.  

Without our people, daa is nothing. They are the core of the business; whether that be our cleaners in Dublin, our retail staff in Auckland, New Zealand, our colleagues in security at Cork, or the terminal operations team at Terminal 5 in Riyadh, Saudi Arabia. We will continue to help develop our colleagues throughout the business and empower them by further investment in appropriate training programmes and support. We will also invest in improved technologies to deliver human resources systems that will enable more efficient working throughout the organisation. During the year, with the support of the Workplace Relations Commission (WRC), the Company concluded a major change and pay proposal with trade unions. However, the Better Together deal, which was recommended by unions to their members, was rejected by members of SIPTU and accepted by members of IMPACT and Mandate. Based on the result of these ballots, the agreement lapsed. Separate agreements were subsequently reached with IMPACT (now Fórsa) and Mandate which provide for pay increases in return for a significant series of workplace changes. At the time of writing, discussions are ongoing with SIPTU, with the support of the Workplace Relations Commission.  

Sustainability is a key goal for the Group. We aim always to be a responsible airport operator and retailer by integrating sustainability into relevant Group policies, processes and agreements and by working to minimise our impact on the environments in which we operate. To this end, sustainability is a key part of the Group's new strategic plan. Our intention is that both Dublin and Cork airports become fully carbon neutral by 2020 as part of the Airport Carbon Accreditation programme managed by Airports Council International (ACI) Europe. Dublin and Cork airports are currently at Level 2 status within the scheme. This means that each airport is reducing its carbon footprint, and has put in place effective carbon management measures. Additional sustainability measures that we are focused on include a reduction in energy consumption, increased water conservation, the minimisation of waste in general, and the recycling of as much material as is feasible across the Company's activities. We are also working to promote the increased use of environmentally and socially responsible products and services amongst our own staff, and the wider airport communities, and to further incorporate sustainable planning, design, procurement and construction policies into all our projects. Notwithstanding our commitment to sustainability, the Group aims to support national economic growth in Ireland through the development of our airports while making a significant and positive contribution to the local communities in which we operate. We believe that economic growth must be delivered alongside exceptional environmental management and this can be achieved while continuing our role as a good neighbour in our local communities. Our Staff Charity of the Year programme has been an integral part of Company life since 2007. Over the past 11 years, daa staff, supported by the Company and passenger donations, have raised €2.3 million for 21 different Irish charities. In 2017, a total of €300,000 was raised at Dublin Airport for three charities – MS Ireland, Merchant's Quay Ireland and My Canine Companion, with staff engaging in a wide range of fundraising activities. Cork Airport's Charity of the Year for 2017 was the Kevin Bell Repatriation Trust. Within the local communities in which we operate, the Group is also a significant sponsor and supporter of events, sporting groups and educational initiatives. As discussed elsewhere in this review, Dublin Airport has recently launched a new €10 million Community Fund which will invest €400,000 per year in a wide range of local projects.  

Dublin Airport is Ireland's main aviation gateway and a vital enabler for the Irish economy. It is one of the most important economic assets in the country, supporting or facilitating 117,300 jobs and contributing €8.3 billion annually to the national economy, according to a 2017 economic study by InterVISTAS. Dublin Airport had an excellent year in 2017. It was a record year for traffic and the seventh consecutive year of passenger growth. Passenger numbers increased to record levels in all sectors of the market. Almost 29.6 million passengers travelled through the airport last year, which was a 6% increase on the previous 12 months. The growth was underpinned by a solid performance from European traffic and significant increases in the long-haul and transfer markets. Short-haul traffic increased by 4% to 25.3 million, while long-haul passenger numbers increased by 19% to 4.3 million. Our airline partners launched 14 new routes during the year and extra capacity was added to 39 existing services. In July, the airport handled three million passengers in a month for the first time, and this milestone was also reached in August. Passenger growth was spread throughout the year, as apart from January and February, Dublin Airport welcomed more than two million passengers every month during 2017. Just under 27.8 million passengers started or ended their journey at Dublin Airport last year, while 1.8 million passengers used the airport as a hub. Hub passenger numbers increased by 32% during the year. European traffic, which is the largest sector of the market, increased by 7% to 15.2 million in 2017, due largely to increases in capacity. New European services included Munich, Naples and Stuttgart with Ryanair, Split with Aer Lingus and Stockholm with Norwegian. There were also significant capacity enhancements on existing routes from airline customers such as Aer Lingus, KLM, Lufthansa, Norwegian, Ryanair, SAS and WOW Air. Passenger numbers to and from the UK increased by 1% to almost 10 million. Weaker sterling contributed to a decline in British originating traffic, but increases in both Irish outbound traffic and in transfer traffic to UK destinations compensated for this. Traffic to London was up 3% to more than 4.9 million, while passenger numbers on flights to and from British provincial cities declined by 1% to just over five million. Transatlantic passenger numbers were up by 20% last year to almost 3.5 million. It was the first time that more than three million passengers took transatlantic flights to and from Dublin Airport in a single year. Transatlantic has been a huge success for Dublin in recent years, and we're excited about the prospects for this part of our business. This summer, Dublin will have 223 transatlantic departures per week, making it the sixth largest gateway between Europe and North America. We'll see new services to Montréal, Philadelphia, and Seattle, as well as the expansion of some existing routes. Passenger traffic to other international destinations, including the Middle East and Africa, increased by 14% to almost 850,000 last year, thanks in part to a new Qatar Airways service to Doha and Etihad's Abu Dhabi service returning to double-daily. Cathay Pacific announced the first direct route to the Asia-Pacific region last August and its new Dublin-Hong Kong route will commence operations in June. Post year-end, Hainan Airlines announced its plans for a new Dublin- Beijing service, which will also start in June. This summer Dublin Airport will have 195 destinations in 42 countries, operated by 56 airlines and it is now the eleventh largest airport within the European Union. Forty one scheduled airlines operated flights to 176 scheduled destinations last year. Cargo volumes increased by 7% to 151,000 tonnes during the year. The cargo transported through Dublin tends to be high value, low volume, and we provide a vital export and import hub to firms all over Ireland. We're hugely conscious of the key role that Dublin Airport plays in the economy throughout the island of Ireland. Increased connectivity boosts trade and foreign direct investment and the near 50% increase in traffic that we've experienced since the start of 2014 has allowed Irish tourism to thrive over the past four years. We continue to work very closely with our existing airline customers to help them grow their business at Dublin and are also in talks with a wide range of potential new airline customers for Dublin and for Ireland.  

Dublin Airport won two major awards that showcased the high quality of its customer service offering during the year. In March, Dublin was named the joint third best airport in Europe for customer service, according to the global Airports Council International (ACI) World Airport Service Quality (ASQ) Awards. The ratings are based on 600,000 passenger survey results in 84 countries that track the key elements of a passenger's experience at each airport. In October, Dublin Airport was named Airport of the Year in its category at the CAPA Aviation Awards for Excellence. We have an unwavering focus on customer service and track our performance constantly through Happy or Not terminals, direct customer feedback, and formal surveys as part of ACI's ASQ process. Dublin Airport consistently scores strongly in the ACI studies and has achieved a top five position within its European peer group in every survey since the second quarter of 2013.  

The phenomenal growth in passenger numbers that Dublin Airport has had in recent years creates a need for increased capital investment across the airport campus. Last year we invested €174 million in a wide range of projects to expand and renew our passenger and airfield facilities. The largest project within the programme was a total resurfacing of our main runway at Dublin Airport, which was needed to allow us to continue to operate safely. This complex upgrade, which involves the closure of the main runway every night to allow for runway resurfacing and the installation of a new ground lighting system, is now almost complete. It's been a huge effort for everyone involved. Every night the team has a very short window in which to work and it is essential that they have safely finished by about 5am to allow the first transatlantic flights to arrive. Just before the end of the year we opened a new €22 million boarding gate area with five boarding gates serving nine aircraft parking stands. It will be used mainly by Aer Lingus for short-haul flights to the UK and continental Europe. We also finished an extension to Pier 1 that added four new boarding gates and a series of changes to Pier 2 that improved elements of the passenger experience and allowed for the segregation of departing and arriving passengers. Mindful of the need for additional capital investment to keep pace with passenger growth that was not forecast within the current 20152019 regulatory period, we asked the Commission for Aviation Regulation (CAR), which regulates charges at Dublin Airport, for an interim review to take account of extra spending. Following detailed consultation with airport users, we submitted a plan for almost €284 million worth of improvements in 23 separate projects in late 2017. After the year-end, CAR's draft determination allowed for an investment of €268 million, which the regulator said would not have an impact on airport charges before 2020. We made a formal submission on CAR's draft decision earlier this month and, at the time of writing, we are awaiting the regulator's final decision in relation to this issue.  

Dublin Airport had a record commercial performance last year, with turnover increasing ahead of passenger growth. Car park revenue increased due to higher occupancy levels in both short-term and long-term car parks and improved yield management. Revenue also increased at our Travel Services business with more lounge and Fast Track customers and greater use of our Platinum Services private terminal. The newly refurbished Skybridge House office building is now fully let and vacancy levels across the campus are low. Income from commercial concessions also increased.  

We made further significant progress on our plans for a new North Runway at Dublin Airport during the year. A five-year extension to the original 2007 planning permission for the runway was granted in March and this is in place until 2022. Shortly before Christmas we finished the first package of construction works, which included site clearance, earthworks and essential road diversions. We are currently in a public tender competition for the main element of the runway works and plan to appoint a contractor and begin these works later this year. North Runway is arguably the most important piece of infrastructure that will be built in Ireland in the next two decades, and it is essential that Dublin Airport can maintain the operational flexibility required to meet the demands of its airline customers, the travelling public, and the Irish economy. We are seeking a change to permitted operations for North Runway through the amendment of two restrictive planning conditions that relate to the airport's operation after the new runway is complete. The Government has confirmed that a new airport noise management regime is being implemented and post year-end it announced that Fingal County Council will be the Competent Authority for this new system. The introduction of the proposed new noise management system requires the issuance of a Statutory Instrument and the enactment of new legislation and the Minister for Transport, Tourism and Sport has indicated that establishing this new regime is a priority. We will continue our twin-track approach of building North Runway and separately seeking a change to permitted operations of the runway via the new noise management regime. We remain committed to open and honest dialogue with local communities in relation to the North Runway and to other developments at Dublin Airport. A large number of meetings were held throughout the year with a wide range of community groups and with individuals. A number of mitigation measures that we have put in place for the local community were launched during the year. A voluntary purchase scheme offers the owners of 38 dwellings the option of selling their property to daa at a 30% premium to the market value excluding the impact of the runway being built. The scheme, which is not compulsory, will remain open for three years after North Runway begins operation to allow those property owners adequate time to determine their preferred option. We also introduced a comprehensive sound insulation scheme for affected houses and schools during the year and have contacted those eligible directly. Our contractors will carry out the work to ensure it is of the highest standards. In June, we launched a new €10 million Community Fund to support a wide range of local initiatives in our neighbouring communities. The fund will invest €400,000 per year over the next 25 years in local projects focused on the areas such as environment and sustainability, sports and recreation, social inclusion and community development, health and wellbeing, and culture and heritage. In December, we were delighted to make awards to 60 local groups which were supported by the Community Fund's first round of grants. We look forward to continuing to work closely with them and a wide range of other groups in our local communities in the years ahead.  

In March, we secured planning permission for the first four new buildings in our landmark Dublin Airport Central (DAC) development. DAC is a new business district in the heart of the airport campus delivering world-class offices and a new public space. Planning was granted for four separate head office-style buildings in March, and construction of the first two buildings began in the autumn. The two new blocks will be completed in the first half of 2019 and we are seeing strong interest from potential occupiers both in Ireland and overseas. More than 4,000 employees will be based at DAC when the first four buildings are complete and the overall scheme has the potential to extend to up to 70 acres. ESB International completed its move to DAC during the year and formally opened its new headquarters in April. It has about 600 staff located at One Dublin Airport Central, a 1960s office building that was transformed by daa into a world-class corporate office with the highest environmental credentials.  

Work continued on the new Dublin Airport Masterplan during the year and consultations were held with a range of airline partners and other key airport customers. The Masterplan is looking at the longer-term requirements of Dublin Airport and considers what infrastructure the airport would need to properly process 40 million passengers per year by the mid-2020s or 50 million passengers per year by the mid-2040s. The emerging options are focused around delivering the North Runway while retaining the existing crosswind runway and adding new aircraft parking stands. The Masterplan shows that the two existing terminals can be expanded and new boarding gate areas added to meet potential passenger demand into the 2040s. The public transport options will be enhanced with the arrival of the Metro. In that context, we continue to protect a location for an underground station at the airport. We will have further talks with our airline customers in relation to the sequencing of the near-term elements of the Masterplan as part of our wider consultation on the next formal investment programme within the regulatory system. Post year-end, we started the process of preconsultation with An Bord Pleanála in relation to amending the existing planning permission for Terminal 2 which capped overall terminal passengers at 32 million per year, pending a further grant of planning permission. The reason for the planning condition being applied was largely related to surface transport access to the airport. But since the planning application for T2 was lodged more than a decade ago, there has been a very significant shift away from using private cars to access the airport. This change has taken place even before the planned delivery of a Metro system that will serve the airport. While 29.6 million passengers used Dublin Airport last year, about 1.8 million of those used Dublin Airport as a hub i.e. they never left the airside area.  

Airport charges at Dublin Airport have been independently regulated by the Commission for Aviation Regulation since 2001. Throughout this period, and prior to it, charges at Dublin have been significantly lower than charges at its peer group of European airports. During the current regulatory period from 2015 until 2019 charges are falling by a further 4.2% per year every year. This reduction is being applied to an already low price, as Dublin Airport offers excellent value for money. Independent benchmarking data for ACI Europe shows that in 2015, the most recent period for which data is available, the average comparable airport charge in Europe was 55% higher than the charge at Dublin. Our goal is to continue to offer a quality product at a highly competitive price. However, the current regulatory system does not take account of the need for daa to make timely decisions about future airport infrastructure which is in the best interests, not just of most current and future airport users, but also of the wider Irish economy. Within any regulated market it is also not unreasonable for the company being regulated to make a return for its shareholder, which in this case is the Irish State. Next year's regulatory determination provides a key opportunity to signal the level of investment that will be permitted at Dublin Airport during the following five years. This will be crucial in allowing the airport to properly expand to meet the needs of its airline customers and the Irish economy.  

Cork Airport is the second largest airport in the Republic of Ireland after Dublin and is the main gateway for the South of the country. Cork had a landmark year in 2017. It became a transatlantic airport for the first time and continued to make positive progress in terms of traffic. Passenger numbers at Cork Airport increased by 3.5% last year with more than 2.3 million passengers using the airport. This is the second successive year of growth in overall passenger numbers, following an increase of 8% in 2016. Cork's passenger performance last year meant that it pulled further ahead of its main competitor Shannon Airport during the year, as the gap between the two airports widened further. In 2017, Cork Airport had nine airline customers operating scheduled services to 39 destinations. New services that were launched during the year included Zurich with SWISS, Newquay with Aer Lingus Regional, and Verona with Volotea. The most significant development for the year was the realisation of Cork Airport's long-held aspiration to enter the transatlantic market. Despite being the State's second city, for legacy reasons related to the history of aviation development in Ireland, Cork never previously had transatlantic connectivity. In July 2017, Norwegian Air, which is Europe's third-largest low-cost airline, began transatlantic services from Cork Airport with the start of direct year-round flights to Boston Providence. The new route is a hugely positive development for both the airport and the region. Management at Cork Airport, supported by a wide range of local stakeholders, had worked tirelessly to help Norwegian secure the foreign carrier permit status in the United States required to begin the service. We would again like to thank the business and tourism groups that assisted in the push to win this landmark new business. Our focus is to continue to work with Norwegian and with key stakeholders on both sides of the Atlantic to continue to grow traffic on the route. During the year we completed a €3 million investment programme at Cork and our concessionaire partners also invested in a major overhaul of the food and beverage outlets at the airport. The combination of these two programmes delivered the largest investment in new facilities at Cork since the opening of the new terminal in 2006. The main food court moved from landside to airside and four new outlets opened offering some of the best local produce from Cork and the wider region. The new outlets and the renewed focus on local food provenance saw revenues from food and beverage increase by 4%, even though several outlets were closed for a period to allow for the refurbishment. This investment programme also included the installation of an additional passenger security screening channel, which was completed in September. As our passenger numbers continue to increase, the addition of a fifth security lane will offer an enhanced experience, particularly during the peak summer season. We also invested in a new state-of-the-art Fire Training Facility, which opened in September. It will ensure that the airport's fire and rescue services have access to world-class training. Our car parking product at Cork performed well during the year, with bookings increasing by about twice the level of passenger growth. Online bookings accounted for over 57% of all business. A major milestone was achieved in December, when Cork Airport received its European Aviation Safety Agency (EASA) certificate to show that it complies with the new European standard in safety and regulation. In June, Cork Airport won a major international award when it was named Airports Council International Best Airport in Europe in its category of airports that serve under five million passengers per year. This award speaks volumes about the type of customer service product that Cork offers to passengers. There was further evidence of that later in the year when a study of global responses from Happy or Not push-button customer feedback machines in airports globally found that Cork Airport ranked joint second for customer satisfaction. During the year we worked closely with our airline partners and tourism agencies to promote travel to Cork and the South of Ireland region and increase the share of inbound passengers on our route network. We partnered with Tourism Ireland and Norwegian to run an extensive marketing campaign in the US to promote tourism in the South of Ireland region. The campaign sought to drive awareness of Cork, and its unique position as the gateway to the Wild Atlantic Way and Ireland's Ancient East. Cork Airport also worked with Ryanair and Tourism Ireland to promote flights to Cork and the South of Ireland from London Stansted and Liverpool during the summer season. At the time of writing, construction is ongoing for a new Executive Lounge, which will be operated by Swissport. The new lounge will be available to all passengers, irrespective of airline and class of travel, on a pay-as-you-go basis and should provide an enhanced product to passengers. Cork's traffic prospects for further passenger growth in 2018 are good, with two new routes and expansions to a significant number of existing services. Air France will begin a new service from Cork Airport to Paris-Charles de Gaulle in 2018. The daily flight will be operated by Air France's Hop! brand. Meanwhile, Ryanair is operating its Cork- Faro service through the winter season for the first time. Aer Lingus will have frequency increases on its services to Heathrow, Alicante, Malaga and Las Palmas, while Iberia Express will expand capacity on its Cork-Madrid service by 5%. SWISS International Air Lines will more than double capacity on its Cork-Zurich service and Volotea will double the frequency of its Verona route.  

ARI (Aer Rianta International) is the Group's travel retail subsidiary, which also holds our investment in Düsseldorf Airport. ARI manages its own outlets at Dublin and Cork airports in Ireland and also has interests in travel retail businesses in Europe, North America, the Middle East, India and New Zealand. ARI has a strategic plan, ARI 2020, which set out targets to grow the business over the four years of the strategy. During 2017, new structures were introduced for both the domestic and overseas operations, which are designed to deliver higher gross margins and increased passenger average spends. ARI won a number of significant awards for its retail offering in 2017. In tandem with Diageo, ARI won the Partnership Initiative of the Year, at the prestigious Frontier Awards and Drinks International Travel Retail Awards. The award was for the creation of the Guinness Export House in Dublin Airport's Terminal 2. ARI (North America) was named Best Canadian Duty Free for the second year in a row at the Frontier Duty Free Association Convention, while The Loop at Dublin Airport was best travel retailer at the Icons of Whisky Awards. Delhi Duty Free was voted the best Duty-Free Shop by travellers at the Travel + Leisure India & South Asia Awards. It also won the Marketing Concept of the Year prize at the International Drinks Awards for its Whisky Luxe Festival. At home, ARI runs its retail business The Loop at Dublin and Cork airports and manages a number of retail concessions at the two airports. During the year, the management of food and beverage concessions at Dublin Airport was transferred to the airport. Total sales at Dublin and Cork airports, including retail and food and beverage sales by concessionaires increased by 7% to €323 million last year. Profit after tax for ARI's international business was effectively flat at €24 million. The international retail trading performance was strong, but costs increased during the year as we invested under ARI 2020 to create the structures required to grow the business into the future. ARI's 20% shareholding in Düsseldorf Airport continues to make a positive contribution to ARI. Passenger numbers at Düsseldorf increased by 5% to 24.6 million in 2017. The improved international trading performance was due in part to strong like-for-like sales across ARI's international portfolio and an improved gross margin performance. Margins were helped by our decision to develop a new global buying team as part of our strategy for growth. Increased dividend income and some foreign exchange gains in the Middle East also boosted international profits. ARI Middle East (ARIME), which has businesses in Bahrain, Qatar, Oman and Lebanon, had a challenging year in 2017. While results in Bahrain and Qatar for 2017 were satisfactory and both locations traded above 2016 levels, it was a more difficult trading environment for ARI's operations in Beirut and Muscat. In Beirut, where ARI is a minority partner in a joint venture, passenger and sales volumes increased in 2017. ARI's joint venture retained the contract to operate the stores in the second quarter of the year. Sales and passenger volumes also increased at ARIME's operations at Muscat International Airport in Oman in 2017, and profits were above 2016 levels. Overall performance, however, was affected by a decline in the average spend per passenger. This decline is directly attributable to the growth in transfer passenger numbers at the airport. The baggage limits imposed by airlines at Muscat International Airport, mainly on flights to India, continue to have an impact. ARIME's joint venture has a 10-year concession for the stores at the new terminal building, which opened this month. It operates the main duty-free store and specialist electronics, and fashion outlets. The move to the new terminal tripled its retail space at the airport. ARI's joint venture at Delhi International Airport had another year of strong sales growth, with revenues 12% above 2016. During the year, ARI increased its stake in Delhi Duty Free Services (DDFS) the company which operates the stores from 25.5% to 33.1% through the purchase of a partner's stake in the ARI entity that holds the equity in DDFS. ARI's retail operations in Cyprus at Larnaca and Paphos airports performed well in 2017 with a year-on-year increase in sales and profitability. Although the average spend per passenger was down on the previous year, growth in passenger numbers contributed to the strong sales performance of the business. Passenger numbers at Larnaca and Paphos increased by 14% to 10.25 million last year. The growth in traffic also benefitted Cyprus Airports. ARI's retail operations in Canada performed strongly in 2017, with a double-digit increase in sales. We won a new contract to operate at Québec Airport during the summer and successfully opened the new outlets there just before Christmas. The year under review was the second full year of trading for ARI's duty free operations at Auckland International Airport in New Zealand. Sales increased by 5% during the year, and further growth should be generated following a major refurbishment of the flagship departures store which was completed in December. With its local partner in Saudi Arabia, subject to final approvals, ARI's joint venture company has a seven-year contract for duty paid stores in Terminal 5 at King Khaled International Airport. The first of these outlets opened shortly after the year-end. In Jakarta in Indonesia, subject to concluding final contracts, ARI intends to take a stake in a new retail operation that began trading at Jakarta's Soekarno-Hatta International Airport during the year. ARIME also has the contract to operate perfume and cosmetics, sunglasses, fashion and jewellery stores at Abu Dhabi's new Midfield Terminal, which is due to open in 2019.  

The primary current focus of daa International, the Group's international airport management and advisory services business, is the operation of Terminal 5 at King Khaled International Airport (KKIA) in Riyadh, Saudi Arabia. daa International was awarded the five-year contract to manage the new terminal in February 2016. It is responsible for overseeing the facilities management of the terminal, including maintenance, engineering and cleaning, and the management of the terminal's commercial concessionaires. Terminal 5 had its first full year of operation in 2017 and welcomed more than 13 million passengers. T5 is designated for domestic traffic and helped KKIA deliver a record year for domestic travellers in 2017. In addition to its continuing management of T5, daa International completed a variety of advisory projects in Saudi Arabia and Oman during 2017. It opened an office in Bahrain to further consolidate its presence in the Middle East, and to more actively pursue business opportunities in the Gulf region, and further afield in key Asian markets. daa International continues to seek new opportunities and is actively involved in several ongoing tender processes for a spread of projects ranging from full terminal management contracts to advisory and training contracts.  

I was honoured to take up the role of daa Chief Executive in October and would like to thank my new colleagues right across the business for their kind welcome. I'd also like to thank them all for all of their huge efforts in delivering such a positive year for the Group in 2017. I have been listening to staff right across the business to learn what we are doing well and where we can be much better. Thanks to everyone who has given me not just their time, but also their candid opinions. The passion of my new colleagues for what they do is incredible and highly infectious for any new entrant to the business. I would also like to thank my fellow Board members for their support and challenge since I joined the Group. My predecessor Kevin Toland was a huge help during the transition process and I'd like to express my gratitude to him for that. On behalf of the Board, Management and staff of the Group I would also like to express the Group's gratitude to our former Chairman Pádraig Ó Ríordáin, whose term of office concluded just after the year-end. Although I only worked with him for a short time, it is clear from all those who interacted with him that Pádraig was a terrific Chairman and we wish him well in the future.   Dalton Philips, Chief Executive March 23, 2018
Annual Report 2017
daa's principal activities include the operation and management of Dublin and Cork airports, global airport retailing through our subsidiary ARI, and international aviation consultancy with daa International. The company is State-owned and headquartered at Dublin Airport. Group turnover in 2017 was €855 million. Read our annual report now Chief Executive's Review 2017 At a Glance View older reports