Take
your
Career
to new heights
Our 2023 Graduate Programme is now open for applications
Calling all graduates
Whether you're looking to attain specialist knowledge and experience, or would currently prefer to pursue a more generalist career path, we have exciting opportunities for talented, ambitious graduates from all disciplines.Our 2023 Graduate Programme is now open for applications
Meet our Graduates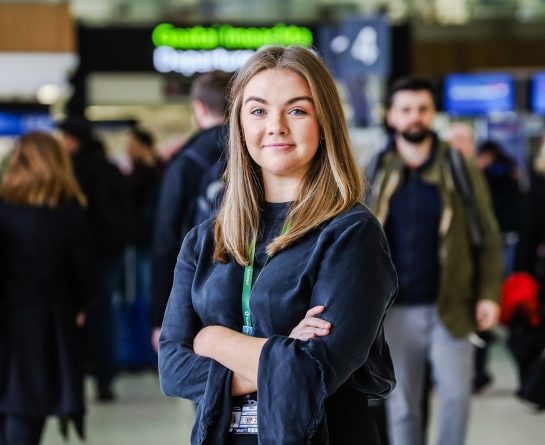 Ciara Branagan, Graduate Project Officer, Operations, Dublin Airport
My role as graduate project officer in Operations Business Management has given me the responsibility to work independently and collaboratively on big ticket projects and am currently working on delivering the UEFA 2020 project. I have also been involved in working on the taxi operation project and Airport Operation Control Centre project which has allowed me to understand the complexity of Dublin Airport's relationships with a variety of stakeholders. The graduate programme has afforded me the opportunity to expand my skill set both through attending training courses and learning from top management.BSc, Nutraceuticals in Health and Nutrition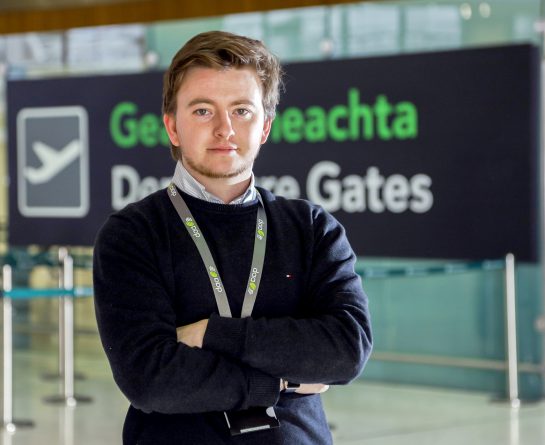 Matthew Drennan, Aviation Analyst, Planning & Regulation
During my time with daa so far, I have worked in Business Intelligence with ARI with our Global Duty Free stores in 13 different countries. This gave me the opportunity to pick the brains of very experienced colleagues. The graduate role puts you in a position where you are respected and valued by all your peers, I emailed a report to the daa CEO and ARI CEO every week and got great constructive feedback from them both.BSc, Aviation Management, DCU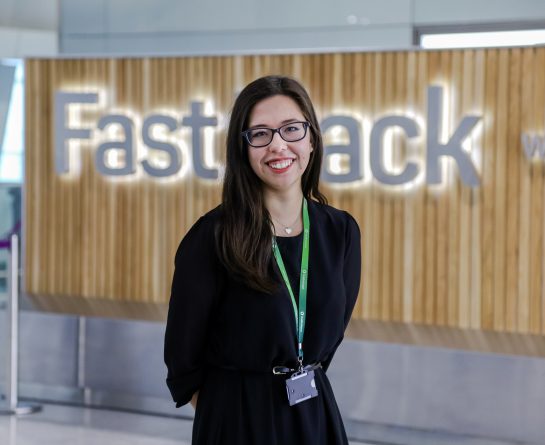 Anne-Elise Clinton - Graduate Project officer, IT Business Relationship Management
As an IT Project Co-Ordinator, I work cross-functionally – liaising with various departments across Dublin Airport to help in the development and delivery of multiple IT projects. Since joining daa's Graduate Programme I have had the opportunity to work on a variety of projects in areas such as mapping, queue management and data analytics. Through this role, I have been able to develop key skills such as communication and project management. The graduate program has given me a platform to learn, work on exciting projects and meet great people. Bachelor of Commerce, UCD, 2019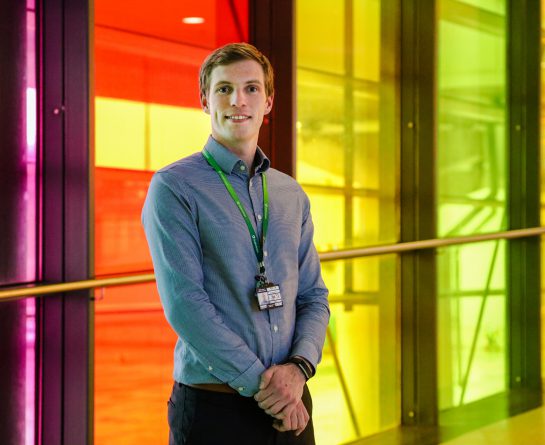 Killian Dunleavy, Graduate Project Officer, Asset Care, Dublin Airport
I am currently part of the T2 Asset Care team. My role is to manage and work with different engineering projects and engage with stakeholders to mitigate any potential operational impacts and to also do some future planning. The Graduate Programme has given me the opportunity to manage projects in a fast-moving environment and to work with people from all parts of a very diverse business. It has also helped me to improve my engineering skills and grow my career.Mechanical Engineering, UCD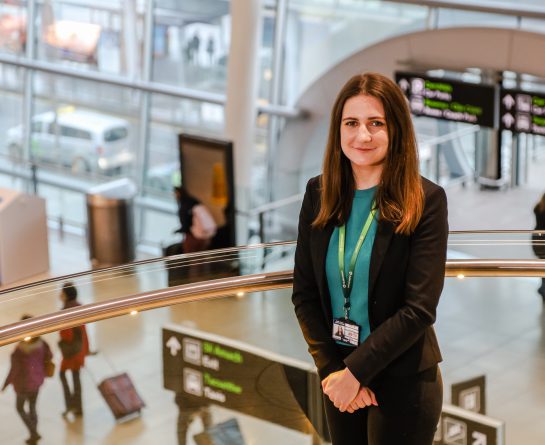 Ellen Doyle, Graduate Project Officer, Food & Beverage, Commercial
Since joining the Graduate Programme, I've been given the opportunity to work with highly skilled and talented people across the organisation. My role within Dublin Airport's food and beverage operation is to support revenue growth in this area and I've gained invaluable experience from the responsibilities the role gives me. The airport is an exciting and fast-paced environment that continues to challenge me on a daily basis.Commerce, UCD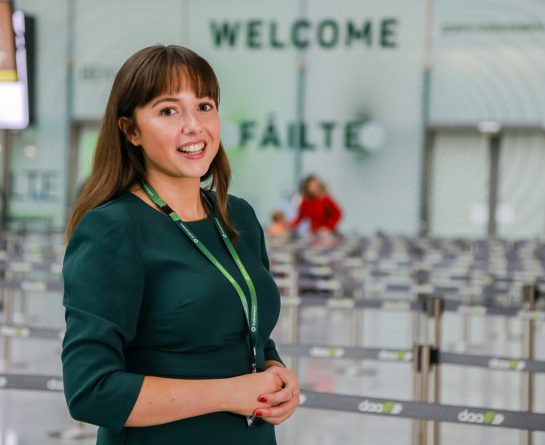 Katie Hastings, Graduate Project Officer, Group Strategy
Working with daa on the Graduate Programme has allowed me to fully experience all that the aviation industry has to offer. My role in Group Strategy has enabled me to learn all the 'ins and outs' of the company and how strategy supports every department. The best part about my role is that no day is the same and the projects I am working on allow me to grow my skills and develop ones I never knew existed beforehand.BA, History, TCD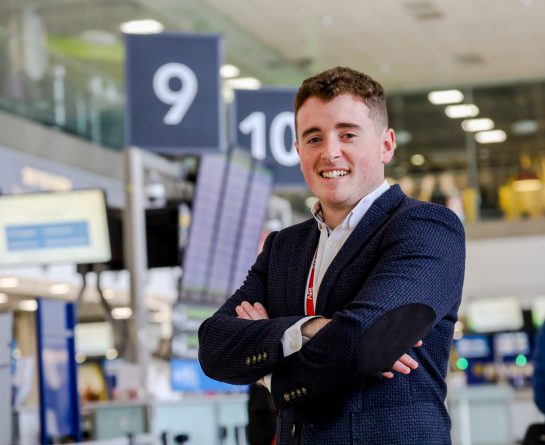 Eoin Hickey, Graduate Project Officer, ARI
Working on ARI's eCommerce team has given me the opportunity to understand how daa works from a retail perspective. Its business is truly global and involves engagement with many international stakeholders to ensure the best online retail experience for all our customers. The best part about my role in ARI is the exposure to luxury, international brands at a high-level. It has given me experience that is second-to-none. Bachelor of Commerce, UCD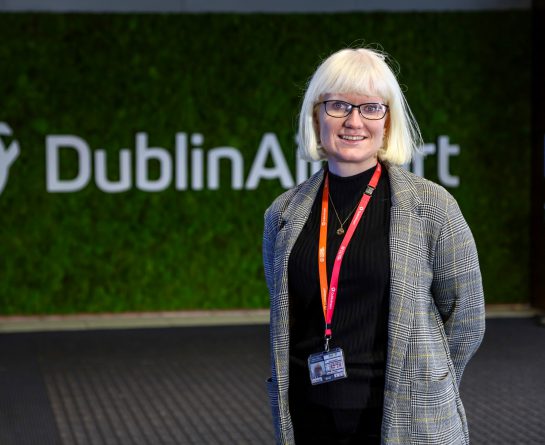 Aoife Doherty, Future Factory Project Master, Commercial, Dublin Airport
The Future Factory is Dublin Airport's innovation and business development department and we work on projects that solve problems or unlock joy for our passengers and our business. In my role as Project Manager, I get the opportunity to work on a huge variety of projects, from mobility and transport, to new and innovative retail experiences, and everything in between. My role means I get to bring an idea to life working together with many different people and teams, and then seeing the impact the project has on our passengers and the business. It's a very rewarding role.BA,Sociology & Italian, TCD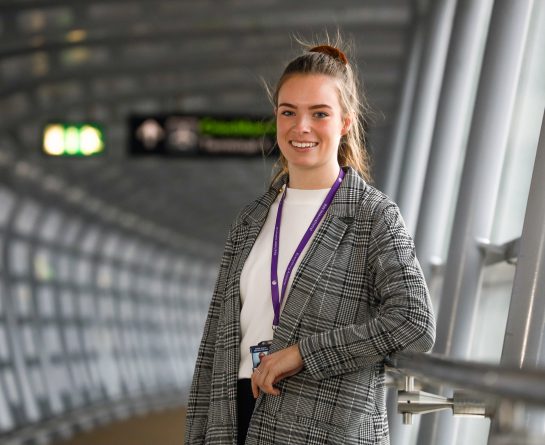 Rachel King, Graduate Project Officer,
daa

International

For my first rotation on the daa graduate programme, I am working in the daa International business where I am involved in a range of very exciting projects around the world. I have a specific focus on the financial and commercial side of the business. I am learning so many new things and being exposed to amazing opportunities on this programme.BA, Business Studies, DCU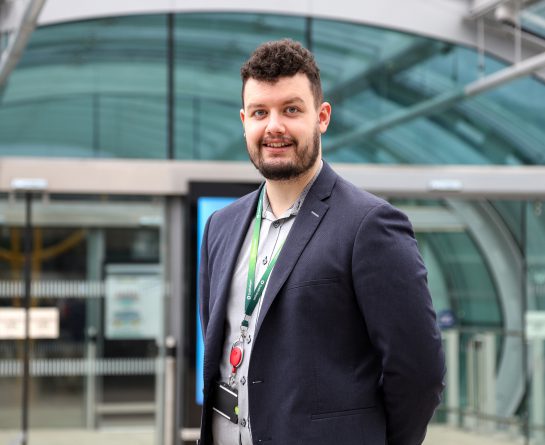 Aaron Cahill, Graduate Project Officer, HR Transformation Team
I have led out and supported a range of Projects so far within the Transformation dept. The training opportunities have been excellent having completed my Prince2 practitioner course as an example of some of the training on offer. The Daa Grad programme has also given me the opportunity to start up my own project. I got the opportunity to present an idea to the American Chamber of commerce hackathon. My idea of a therapy dog programme using charities was selected to be made into a live project. My managers allowed me to work on this project each week and we launched the Trial in June for 12 weeks.MSc, Management (Business) - DCU, BSc, Transport Operations - DIT, B.Eng, Aviation Technology - DIT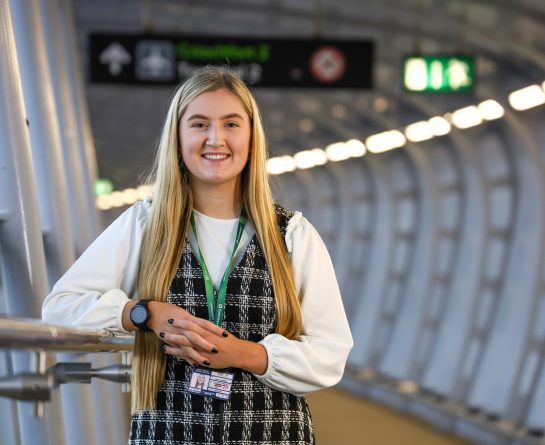 Emily Leonard, Graduate Project Officer, Operations Business Management, Dublin Airport
Since joining daa on the Graduate Development Programme I have been working on the Operations Business Management team. The Graduate programme has allowed me to put my educational learnings into practice, when it comes to the day to day complexities of managing an Airport that is continuously growing and expanding. I have had the opportunity to work on a variety of projects like internal operational audits monitoring and reporting and the future planning for Dublin Airport's peak seasons. The best part about my role is that no one day is the same, there is always something exciting and/or challenging to learn and develop from – the friendly people I work with are just an added bonus.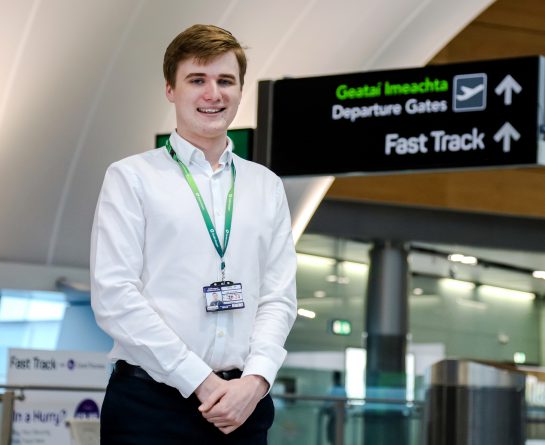 Karl Rochfort, Graduate Project Officer, Commercial
My role in Commercial Concessions focuses on generating revenue and managing relationships with the various businesses operating within Dublin Airport. In my first week I was given my own project to manage, allowing me to connect with several people from multiple streams across the company. The best part about having the opportunity to manage my own project in the early days of my daa career is seeing that my decisions and opinions are valued and knowing that my knowledge and skill set can help improve the overall passenger experience. BCL, Business and Law, NUIM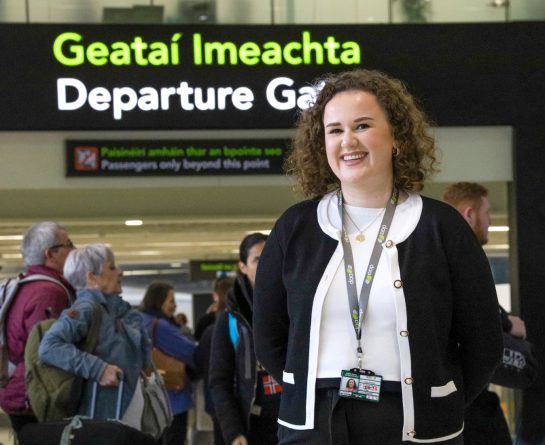 Aoife Kennedy, Graduate Project Officer, HR
Working with daa has thrown me into the exciting world of aviation. My role in HR has given me incredible insight into the complex operations of the daa group internationally and the cross-functional role that the HR department plays in supporting these operations and the people behind them. I'm involved in challenging projects which have tested my skills and have given me fantastic scope for professional development.BA, Sociology and Social Policy, TCD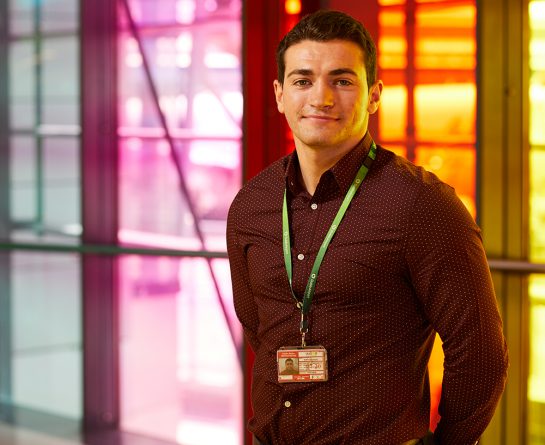 RORY CULLINANE, Client Project Owner, Dublin Airport
There aren't many other jobs I can think of where a design or construction project needs to consider how an aircraft full of passengers is going to behave. For me, it is this challenge along with working and developing relationships throughout daa that makes working here enjoyable.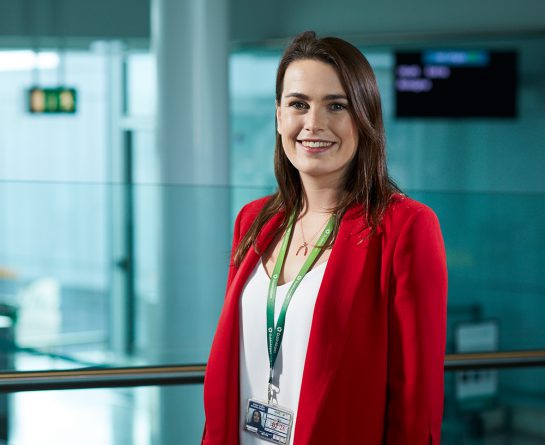 Amy Pyne, Graduate Project Officer, Commercial, Dublin Airport
My role involves engaging with our airline partners and other key stakeholders negotiating contracts and helping to support revenue growth across the business. What's great about my role is that it allows me to work cross-functionally, giving me great insight into different areas of the company.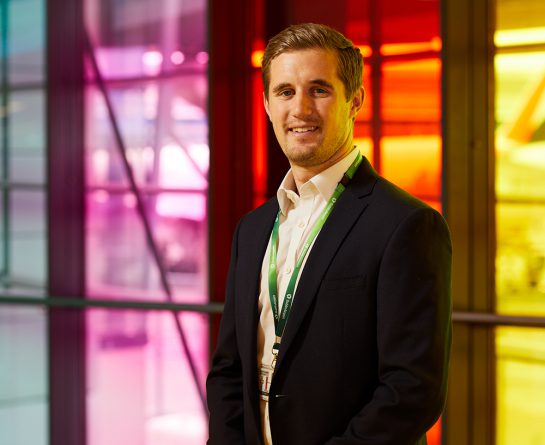 Geoff Garrett, Business Development,
daa

International

During my time with the daa I have held positions in Group Strategy and daa International. I have been involved in challenging projects from North Runway stakeholder engagement to international negotiations with foreign businesses. daa is an exciting place to work and provides considerable opportunities to grow your career.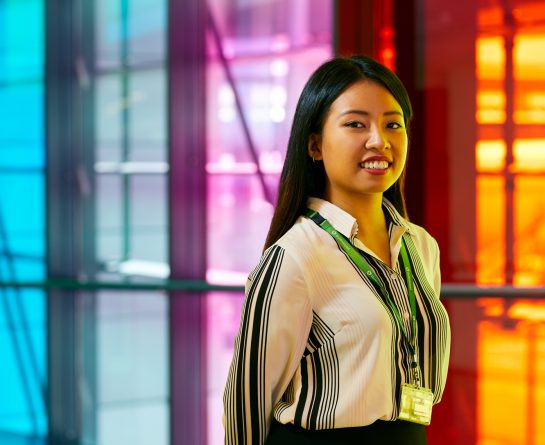 Audrey Chew, Operations Project Officer, Dublin Airport
Since joining the graduate programme in 2017 I have worked on projects involving Transfers, Terminals, Landside, Quality Improvement and Operational Safety. I have had the joy of meeting so many brilliant people from across the business who are always eager to share their knowledge. I feel that there are countless opportunities to grow within the daa and the fast-paced nature of the airport makes every-day exciting and unique.
What you can expect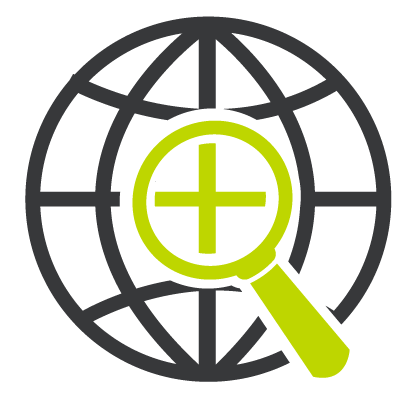 Global opportunities

Structured development programme

Mentoring & coaching

Job rotation
What does our Graduate Programme offer?
Benefit from working in a business that's at the forefront of global travel trends, building next-generation commercial hubs, enhancing passenger experiences, and shaping the future of the global airport industry.
Download our brochure